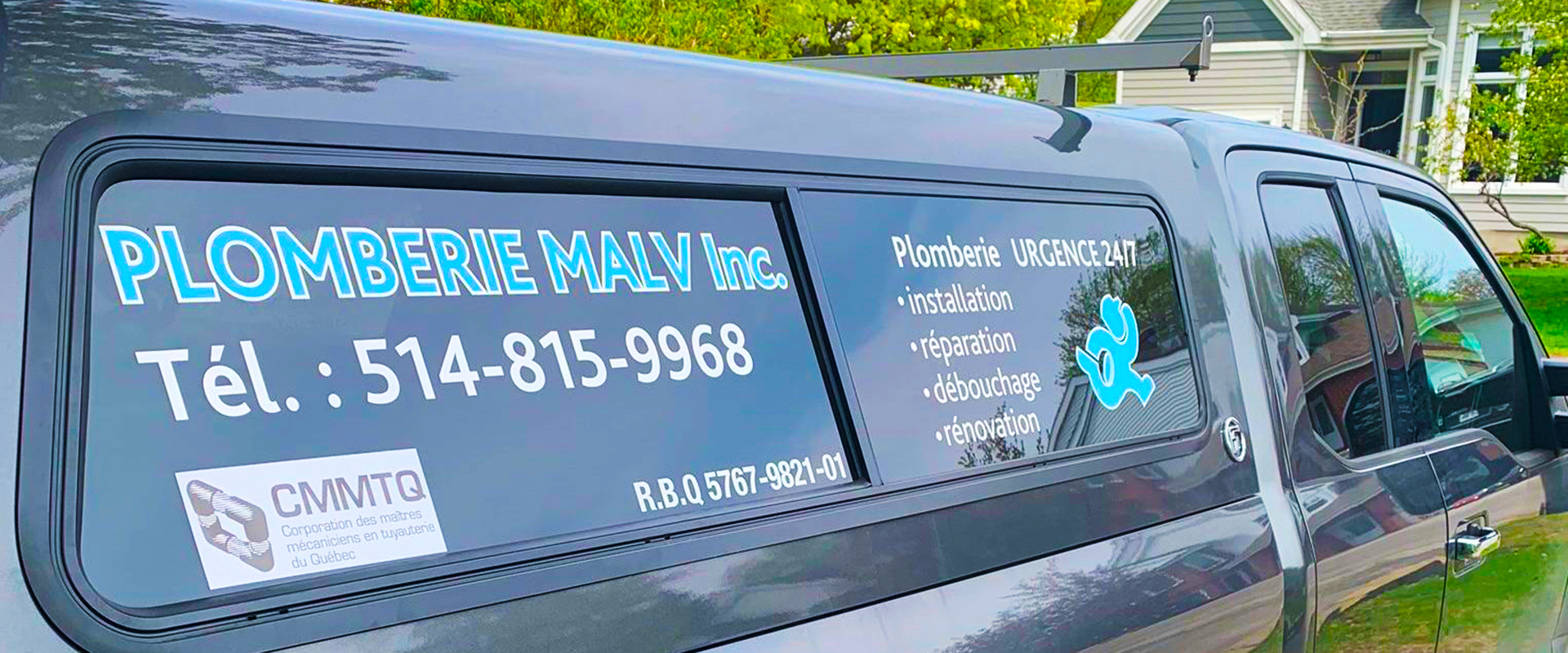 THE KEY OF SUCCESS - 20 YEARS OF EXPERIENCE
RBQ certified plumbing professionals! Our goal is simple: solve your problems with confidence! Our promise? The work will be IMPECCABLE! Free advice, call us now!
INSTALLATION, REPAIR,
UNBLOCKING AND RENOVATIONS
Our services cover all types of needs for your plumbing needs and more! Clogged sink or toilet, water leak, clogged pipes, water heater installation or other troubleshooting or replacing work?
Our goal is simple: fix all your problems with confidence! A specialist in troubleshooting, Plomberie MALV, will fix all your problems!
In order to detect any problems, camera inspection is the most simple solution recommended by our company, MALV Plumbing Service ! By using a camera, you have a precise view of the inside wall of the pipes and a quick diagnosis.
Have you noticed a slow and difficult flow and bad smells? Plomberie MALV is able to precisely locate the problem of the drain, sewer or pipes.
Basement leaks or spring flooding are issues and risks for your home. To prevent the risk of structural damage, MALV Plumbing service offers the best solutions to fix efficiently the problems.
This problem is particularly current in old houses. Potential reasons for the problem include: pipes damaged by corrosion or a water leak somewhere in the plumbing system.
If bad sewer odours come out of your sink or bathtub, or if your toilets and pipes start to backflow, it's a sign that your system is having trouble draining to the main drain.
Installation or repair service for toilets, bathtub or shower, sink and faucets. Do not hesitate to contact MALV Plumbing Service!
YOU HAVE A PLUMBING OR RENOVATION ISSUE? CALL US NOW!
Installed on the main drain of your plumbing system or on the drain pipe, the check valve prevents the sewage from a municipal drain returning to the basement.
The water heater is an essential item in the comfort of your home. Plomberie MALV will be able to quickly replace your water heater or make a new connection.
Using a dishwasher is today's standard. The experts at Plomberie MALV are there to provide you with a complete installation service.
Pipes can be damaged over time by corrosion and routine use, so that replacement becomes necessary. Plomberie MALV can provide you with the best solution to your problems.
The water inlet is used to supply water to the entire system. To repair or install the water inlet it is recommended to call in a plumbing expert. Trust the experts, contact Plomberie MALV.
Do you have a renovation project in mind? Our contacts among contractors allow us to organize or carry out different types of renovation work according to your needs! Just give us a call!
YOU HAVE A PLUMBING OR RENOVATION ISSUE? CALL US WITH CONFIDENCE!
DO YOU HAVE A PLUMBING OR RENOVATION ISSUE? CALL US NOW!
Don't take anything from us, listen what our customers tell you. The happiness of our customers is our top priority.
J'aime vraiment leur travail, je suppose que maintenant ils ont un nouveau client à vie. Dorénavant, tous les projets de plomberie que je réaliserai passeront uniquement par la compagnie Plomberie MALV!
Excellent et rapide. Une expertise complète, les meilleurs services et la qualité ! Digne de toute confiance ! Je recommande !
Very satisfied with the speed of intervention, the quality of the work and the price (copper pipe welding).
Water leak in my kitchen discovered when I woke up at 6:00 in the morning. Super quick intervention at the first hour. Very professional. Great job. In 1h30 the leak was repaired and he even stayed to check that everything was working well. Thank you very much!
Énorme merci à Plomberie MALV, par un dimanche matin paniquée concernant une fuite d'eaux dans mon appartement, qui à su intervenir dans de court délai. Gros merci!
Intervention rapide de Plomberie Malv, professionnelle et courtoise. Travail rapide et sans mauvaise surprise. Vieille chaudière en panne à remplacer. Je recommande!